3 Ways: Over the knee boots
February 27, 2014

For this weeks "3 Ways" post I wanted to do over-the-knee boots because they are definitely a closet staple. I am wearing Free People flat over the knee boots that I bought years ago and every single year I wear the hell out of them! They always come back in style. Here are 3 simple ways to wear your over the knee boots.
Esta semana quise hacer un "3 ways" de botas que llegan arriba de la rodilla. Aqui estoy usando unas botas de Free people que compre hace muchos años. Cada año siguien siendo un articulo que uso bastante. Aqui les dejo con 3 maneras sencillas de usar estas botas.
1. For the first look, I am wearing a shawl cardigan as a dress (see it worn differently in my previous post). I wrapped a tight black belt around it to keep it in place and to also tie the whole look together. This is a great look for winter. I used a light shawl because it's hotter here in San Diego, but for colder places a thicker cardi works too (maybe even layered under a coat). The belt helps keep the waistline in check. I love how this looks a bit sophisticated yet still boho and a bit (or a lot) of skin with these boots is always a good idea.
Para el primer outfit use un sueter (que puedes ver en mi post anterior aqui) en forma de un vestido. Use un cinto negro para mantener el sueter en su lugar, dar forma a la cintura y completar el look. Esta combinacion es buenisimo para invierno. Use un sueter lijero porque aqui hace calor pero tambien lo puedes usar con algo mas grueso.
details: Freepeople boots, American Apparel shawl cardigan worn as a dress, michael kors belt, H&M hat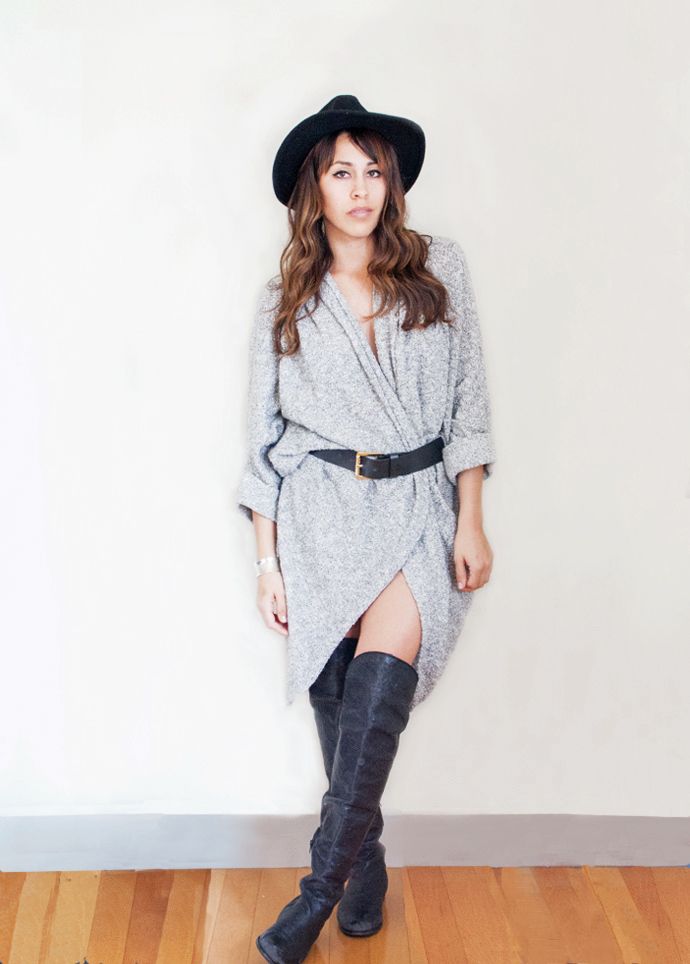 2. Over the knee boots look amazing paired with extra mini skirts. My favorite of this combination is with a leather skirt and contrasting fabric on top. The white tee and beanie keeps this nice and casual. This is a no fail, all day every day comfy look. 
Estas botas se ven increibles con una falda mini. A mi me gusta mucho usarlas con una falta de piel mini y una tee casual. El gorro y camisetta blanca hacen el look muy casual (ya que aveces las botas se pueden ver un poco elegantes). Este outfit se puede usar todo los dias. Algo facil y sencillo.  
outfit details: UO beanie, Choies jacket, Zara skirt, Banana republic tee



3. Another great all occasion (maybe casual work meetings or lunch with friends) kind of look. Wearing over the knee boots with stand out tights or leggings is key. It always looks really fresh. I chose to wear these with some on-trend houndstooth print and a solid silky blouse to change up the textures a bit. 
Este look lo puedes usar para muchas ocasiones (como para ir a citas de trabajo o a comer con amigas). Pantalones con un color, textura o estampado padre queda bien con este estilo de bota. Aqui yo decidi usar mis botas con un estampado de houndstooth y una blusa de seda para cambiar de textura. 

outfit details: Vince blouse, Zara houndstooth pants, Celine Sunnies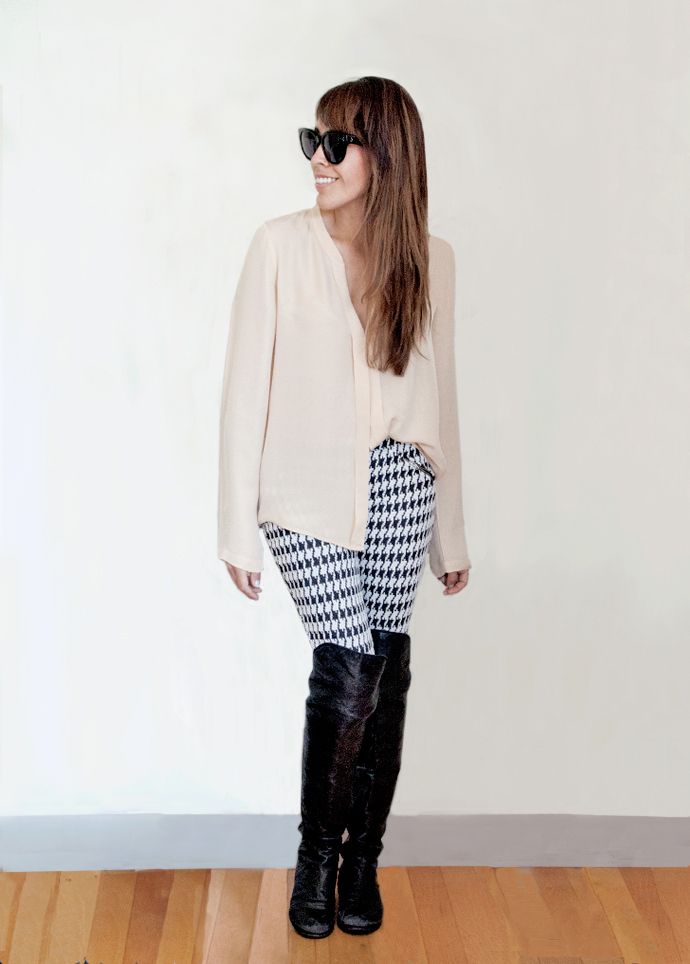 I've gotten great feedback on the "3 ways" posts so I will definitely keep them coming! My favorite part is reading all the comments and seeing what everyone's favorite look of the three is! Thanks again for all the support and constant feedback. XO Francesca
Me han dicho que les gusta este post de 3 maneras diferentes de usar una pieza asi que lo voy a seguir haciendo! Lo que mas me gusta es leer todo los comentarios y que look les ha gustado mas. Gracias por leer! Xo Francesca