Leather Skater Skirt
May 1, 2014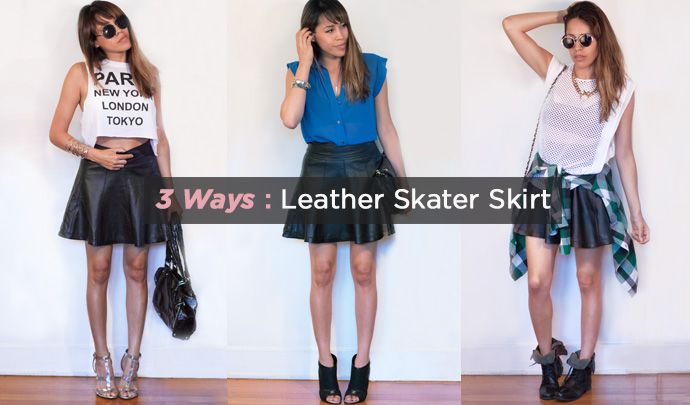 Ok guys, so skater skirts are pretty huge right now and I'm all for it, but I am more keen to wearing black faux leather skater skirts. So here are 3 ways to wear a faux leather skater skirt : casually, dressy and trendy. 
1. This first look is a dressier daytime look. I love how it's modern with the crop top and round sunglasses. If it was chilly I would probably pair a loose cardigan over it or even a cute denim jacket.
Outfit Details: BMLA crop top, Target Sunglesses, Forever21 cuff, UO skirt, Zara boots, Marc Jacobs bag
2. This second look is more for night time or even a day of work depending on what shoes you pair it with and accessories. I kept it simple and classy with Chanel accessories and all Tiffany and Co silver jewelry. Pairing the skater skirt with a sheer button down shirt always looks good (especially if it's a leather skater skirt like this one because it contrasts really well with the sheer fabric). I love this color blue for spring/summer. 

Outfit details: Michael kors button down top, Tiffanys jewelry, Chanel boots and bag

3. For my third look I decided to get more literal with the "skater" thing and go a bit 90's glam grunge. I have fun trying to pair texture on texture so I went with a mesh see-thru top and chunky gold chains to further add on to the texture. This look is super versatile because it can be worn with some flirty bad ass heels or even your classic converse depending on your mood and occasion. I decided to wear some combat boots to keep this a casual look.
Outfit details: Sandro top, UO sunglasses, mens UO flannel shirt, Steve Madden boots, Luv Aj necklace


What do you think? How do you style your skater skirt?